In this article:
Who can rent space on Playeasy?
Athletic facilities of all types and sizes are able to host on Playeasy. From private multi-field, court and rink facilities, to grade schools, high schools and colleges, to community centers and state owned park spaces - as long as you are able to hold a sporting event, you are able to register your facility on Playeasy. Every facility goes through our vetting process to ensure legitimacy.
What kind of space types can I rent through Playeasy?
The Space Types you are able to rent on Playeasy are:
courts
diamonds
driving range
fields
fitness center
golf course
golf simulator
batting cages
pools (pool lane)
rinks
sand court
squash court
tennis court
track
Other space types:
auditorium
cafeteria
classroom
conference room
studio
theater space
You can add additional filters to each of your space types by adding the following surface types:
Hardwood
Concrete
Multi-purpose
Synthetic
Grass
Sand
Turf
Interested in renting other space? Let us know!
Can I register more than one facility on Playeasy?
You may register as many facilities as you would like on Playeasy. We want you to be able to manage all of your facilities' bookings with us in one centralized place!
Once you are signed up, you can start the process of registering your facilities by clicking the Join as a facility button at the top of the homepage. You may add as many facilities as you need after that.
Once you register your first facility, you can immediately create your next one by clicking Create another facility.
All of your facilities can be managed on your My Facilities tab. You are able to add as many facilities as you would like by clicking the New Facility tab on your My Facilities tab.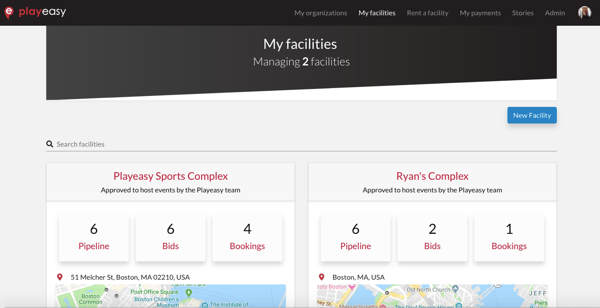 If each facility has different Managers who oversee different locations, add their emails under the Managers tab on each individual Facility Profile.