With the launch of our Site Selection 2.0 comes an entirely new lead management experience. This article breaks down the basics for navigating and organizing the RFP Leads dashboard.
How do I submit an RFP?
To Create an RFP:
1.) Go to Playeasy.com
2.) Login to your Playeasy Account
3.) Click into your "Home" Page
4.) Click "Site Selection RFP" below the "Start a Post" button at the top of the newsfeed,

OR head to the Admin View of your Organization profile, click the "RFPs" tab and click the blue "New" button.
Your RFP creation process is similar to before, but now you can choose to only alert specific Destinations & Facilities of interest in a private request, or alert the entire Destination & Facility network with a public request.
As you enter your RFP details, the number of possible host matches will appear at the bottom of the page.
In the last RFP creation step, under 'Review and Submit', you may select to make this RFP public or private. If private, your total possible matches will appear in a list format. Select a few or all of these matches to privately alert with your request.

What is the Leads Dashboard for an RFP?
Our new RFP matchmaking system allows Event Organizers to create, send and manage RFP responses with ease, with the option to create a public or private request. Now, you have the ability to alert certain Destinations or Facilities (A Direct Request) that match your set requirements or alert all Destinations or Facilities within your chosen radius that match your site requirements.
The leads dashboard on your RFPs is your all-in-one management tool for you to view and organize RFP responses. Here, your RFP responses will get moved to open, interested, won, lost and passed as Destinations and Facilities take action.
How do I access my Leads Dashboard for an RFP?
Through your Profile (If you manage an Event Organizer Profile)
Navigate to your profile by clicking the 'Home' icon on Playeasy.com. Click your Organization name on the left of the page under 'Memberships'
On your profile, click 'View as Admin' on the top right
Click the 'RFPS' tab on the top nav bar
Click into one of your RFPs
Select 'Leads' on the Nav Bar
You are now on your Leads Dashboard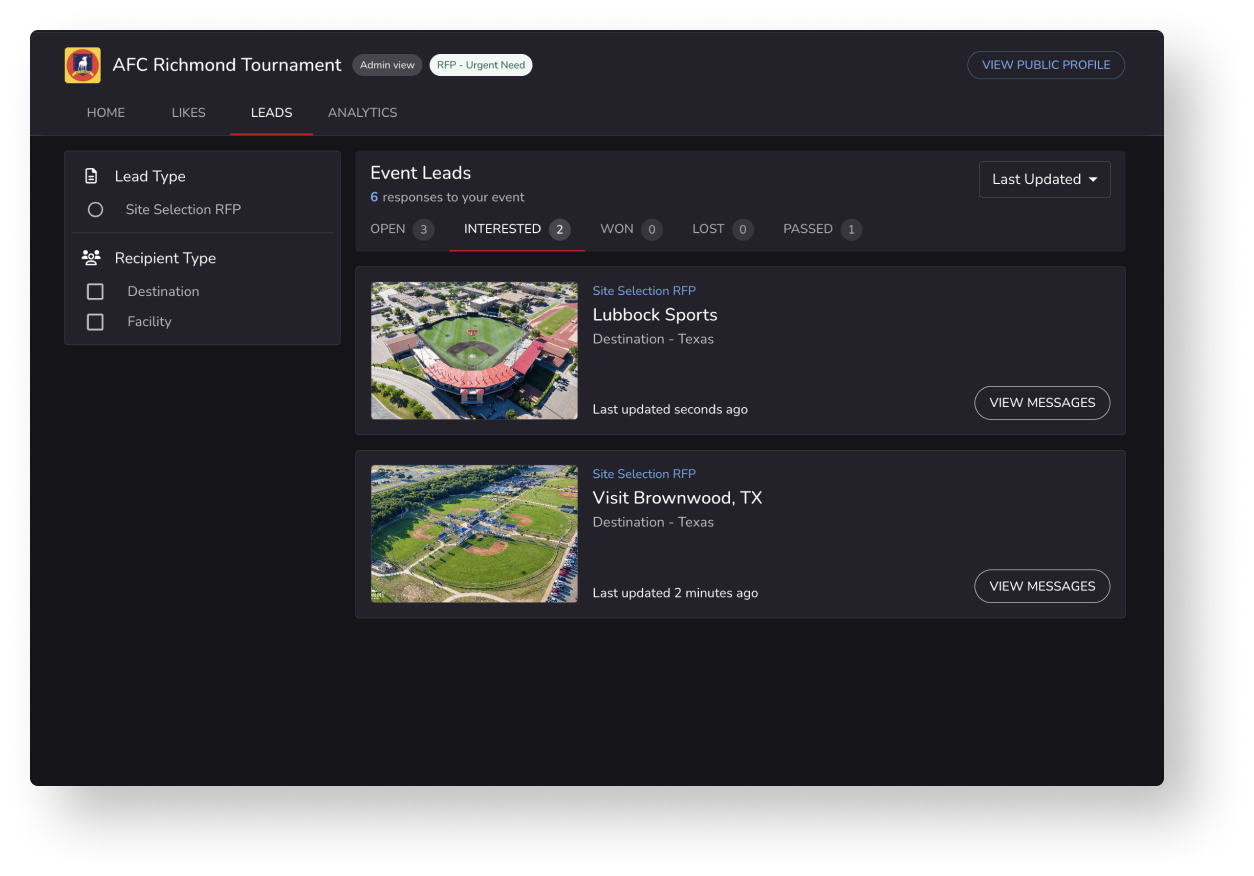 What is a Private RFP?
Event Organizers now have the opportunity to select the exact Destination(s) and Facilities they would like to send an RFP.
These RFPs are "private" and will not appear on the Public RFP Marketplace, they can only be viewed by the chosen Destination(s) and Facilities
These RFPs will have a tag that says "Private RFP".
The Dashboard
We built the new event lead management dashboard to make it easier to stay on top of your RFP responses. We have introduced a new flow for you to see who is interested or passed on your RFP. This will automatically update as Destinations and Facilities respond.
Below is a breakdown of the tabs of the dashboard:
Open

Here you can find all of your 'Open' Leads. These are leads that match your event requirements that have not taken action to respond yet.
Interested

Here you can find all of the Destinations and Facilities have communicated they are 'Interested' in your request. You can access their profiles from here to learn more about these potential hosts.
Won

This tab will house the Destination or Facility that won your request.

Lost

This tab will gather all of the Destinations and Facilities that demonstrated interest in the request, but 'Lost' it.

Passed

This is where any Destinations and Facilities that passed on your request will be stored so that you can look back at them at any time.
We are always working to improve, so please feel free to share any feedback with support@playeasy.com