We've added some new features to help provide a better user experience - Check out all of our latest updates!
Destinations can now add their Facility Partners to their Profile
Manage all of your Facility Partner profiles directly through your Playeasy profile! Select the venues you want marketed on your venue marketplace, and access their profiles with the click of a button. on your profile. Users can select facilities from a pop-up modal on their "My Venues" tab.
Properties shown on a Facility Card:
- Name of Facility
- Type of Facility
- Address of Facility
- CTA to "View Profile" (takes you directly to the facility's profile)!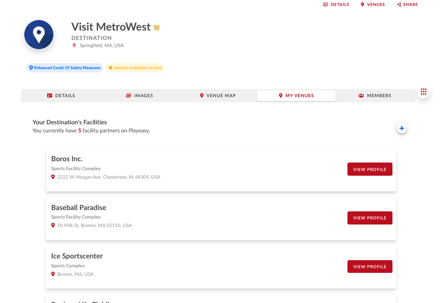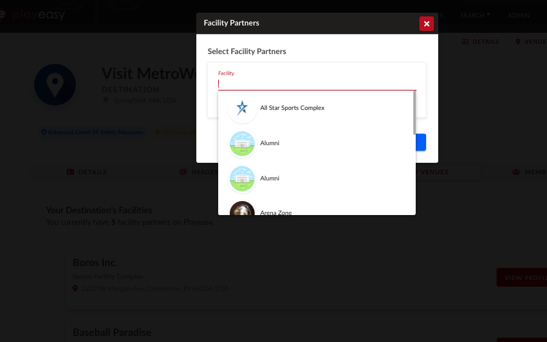 ---
Embed your Playeasy profile on your website
Allow your website visitors to easily see the venues you have and direct message you

Enhancements to Destination Profile
Playeasy Badge on Gold and Silver Profiles
- In the admin section on a destination profile, we can select if the Destination is "Gold," "Silver," or "Bronze" tier
- All Gold profiles will have a Gold Bade on their profile.

Destination Custom Embedded Link
Destination Services Selection
Website URL Connection

"Short Story" (free text)


---
Image Caption Enhancements
A profile manager can now add:
- Image Name
- Images caption
To add your caption, go to your "Images" tab on your Playeasy profile. Once you have uploaded your photos, select the three buttons to the bottom of the image. Select "Edit" from the dropdown.
Select "Edit"

Give your image a name and caption. The caption will appear on your image when viewers check out your profile.

The caption will appear on your image when viewers check out your profile.


This will be a good way for you to give credit to the image photographer and location!
---
RFP Creation Enhancements
Location Selection
On Event Creation, we now give the user the option if they want to select a mile radius or entire country. If a user selects entire country, all venues & destinations that meet their event requirements will be alerted of the event posting.




Increased Mile Radius
Users can now choose to increase the mile radius for posting an RFP, as well as increasing the mile radius to search RFPs. This allows for event organizers to alert a larger location.
Space type filter enhancements
We've added the ability for event organizers to select if they need unique space type, creating. a more seamless process to connect with the. right location for their events.

---
Marketplace Search Updates (Destination and Event Organizer Marketplaces)
On all of the Destination and Event Organizer Marketplaces, we updated the requirements for what profiles appear first on the marketplace. This is the order for what profile appears first:
Gold profiles will always appear first (then Silver, then Bronze)
Most recently updated/created profile
Number of Images on the profile
---
Like Events
When you like an RFP, the event organizer will now instantly be alerted of your interest, as well as allows you to see who's liked the RFP to provide a quick ability to show your interest
Event Likes List can be accessed on an Event Page
A user's name, headline and photo are shown on the list
When a user likes an event, the event owner is instantly alerted to let them know "x" user has liked their event.
---
Sports Added
Road Race
Marathon
Endurance Competition
Air Race
Roundnet
Archery
Game Changing Features Coming Soon!
We're getting close to launching a major product release that includes the ability for destinations to post to the network of event organizers. Instead of waiting for new RFP's, this will allow you to go on offense and post to event organizers about your availability, new events you're hosting, initiatives, partnerships, etc. More details on this coming soon.
If you haven't yet gotten set-up on Playeasy, it's easy to do so and we'll do all the work for you. Click the button below to set-up a time to get started.