An inside look into Playeasy's newest product release, including updated designs & enhanced searching across all Playeasy Marketplaces.
Updated Design
Our design across the platform was further enhanced to best showcase our customers & content in front of our rapidly growing user base.
Sleeker Marketplace designs, including Event & Destination cards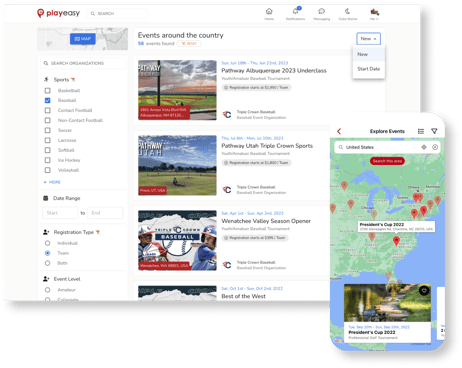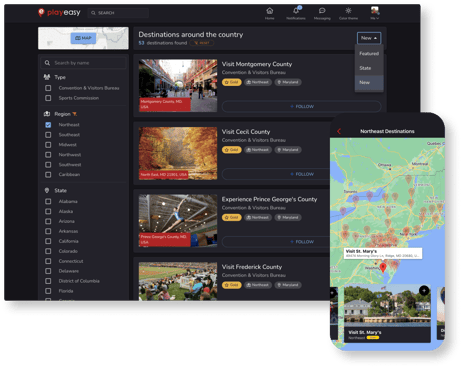 Enhanced Search Capabilities across all Marketplaces
All Playeasy Marketplaces have been revamped with enhanced filtering and searching capabilities so you can find exactly what you need, when you need it.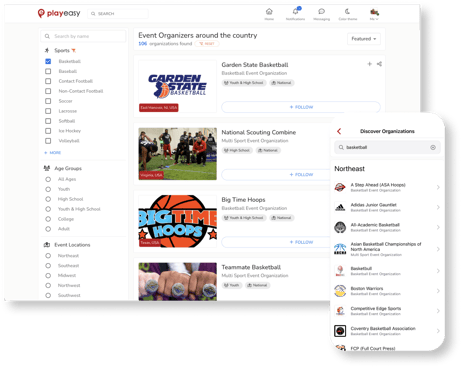 Playeasy's Event Marketplace can now be sorted by sport, date range, registration type, event level, age group, gender & event type.
The RFP Marketplace for paid users has been revamped with the same filters as the Event Marketplace to allow users to specifically search for future RFPs of interest. Users can also filter by newest RFP added or the future event's proposed start date.
The newest, freshest events automatically are shown first in the Event Marketplace, or users can sort by start date.
Users can arrive to the Event Organizer Directory directly from the Event Marketplace by clicking 'Search Organizations'. Similarly, the Event Organizer Directory can be sorted by sport, age group, event location & event type. Users can also filter by featured organizations (the more filled out a profile, the higher up it goes), new on Playeasy & last updated.
The Facility Marketplace can now be filtered by sport and facility type to quickly narrow your search. Users can also still check out the map view to search by both location and sport.
The Destination Marketplace can be filtered by Destination type, region, state, or the newest on the platform. The map view is also still accessible to search.
Boosting
Playeasy Boosting is going live. Users can choose to boost their organization, event or post to be seen higher on the Marketplaces, home screen & newsfeed for a small fee. Get your brand noticed front & center on the largest digital sporting event network.
Event Cloning

Clone your events after you create them to allow for an easier creation process for event series or recurring events. Edit the finer details after you clone & you're done!
Increased Posting Size
Tell your full story on Playeasy. Our posting text limits have significantly increased to allow users to post longer form content. We know you have interesting stories to share - from event recaps to highlighting upcoming events & facility availability. Now, you can paint the full picture. Include photo, video or virtual tours to round it all out.
Have questions or need assistance? Reach out to us here.