Overview
The Playeasy Connect Button with Playeasy Elements gives you the ability to connect your own website to your Playeasy profile.
In the next section you will learn how to create and implement The Playeasy Smart Button into your website. If you want to learn more about web components, follow this link.
---
Table of Contents
Get your Playeasy Connect Button code
To Access the Playeasy Connect Button section, Login to your Playeasy account. Once you are logged in, go to the profile you want to create the button for.
On this profile, select the icon on the right of your page.
Open the drop-down on the top right and select "Add Playeasy to Your Website"


Select a style, a target and customize the button's wording


Once all areas are corrected, click on the option to Copy Code. Codes are best for adding to a website in the code and Links are best for adding to email campaigns and other sites such as Facebook.
The following options are editable in the Playeasy Connect Button section to preference:
Wording on the button
Color of the button
Style
Animation
Adding your button to a WordPress site
Adding the Facility Request Button to your WordPress site is as simple as adding a new Custom HTML Block.
Find your home page and click on "Edit"
Find the area where you want to place the Facility Request Button
Add a new Custom HTML Block
Pasted the copied code from Playeasy website.
Preview and Update!
For more information about how Custom HTML Blocks work, visit Wordpress Support website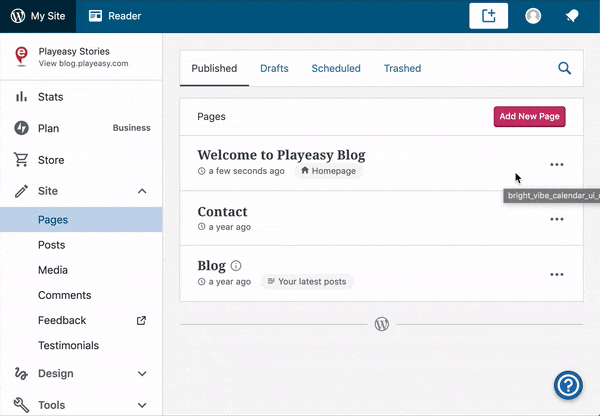 Troubleshooting
The Playeasy Connect Button is not rendering
Some CRMs and website builders block JavaScript elements when they are being loaded from within the body of a page. In situations when the component is not loading, please add the provided <script> element within the <head> element of your page as seen in the example below.