In this article:
Adding photos
To upload photos, click the Images section on your facility dashboard. You can upload images by choosing a file from your device, or by dragging the image to the arrow as indicated. You may add, edit or delete photos from your profile at any time. Photos must be no larger than 2 MB.
Your Facility Profile is a place for you to market your facility. Photos are heavily encouraged and will help increase your chances of winning the offers you submit. These photos represent your facility and all that it has to offer. (Photos should be no larger than 2MB!!)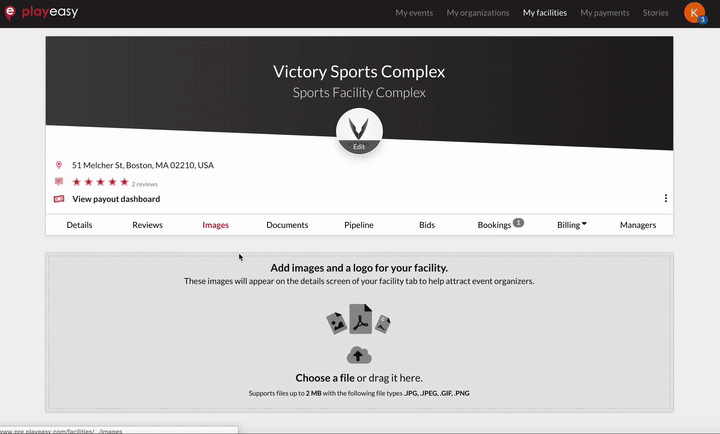 Adding a Logo
Adding a logo to your Playeasy Profile legitimizes your facility! In the Images section on your profile, add an image of the logo you would like to use. Once uploaded, click the three small dots on the lower right of the image box. Then, select Set as logo.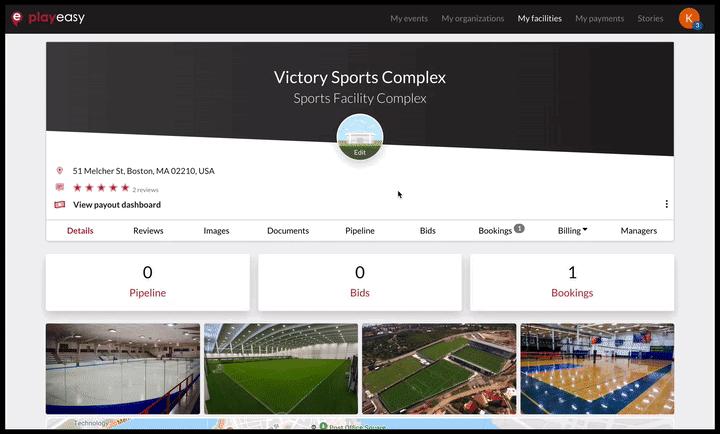 Edit your photos
Feel free to edit your photos at any time. Add new photos, change the arrangement of photos, or switch up your logo to keep your profile looking fresh.
Also, feel free to Download or Share your photos from your profile at anytime.
Extra tips
Your photos must meet these requirements


no larger than 2MB
Use common file formats (try JPG, GIF or PNG)