This article explains how to add images and logos to your Playeasy profile.
In this article:
How to add a logo
Adding a logo to your profile legitimizes your organization! In the "Photos" section on the admin view of your profile, add an image of the logo you would like to use. Once uploaded, click the three small dots on the lower right of the image box. Then, select "Set as logo."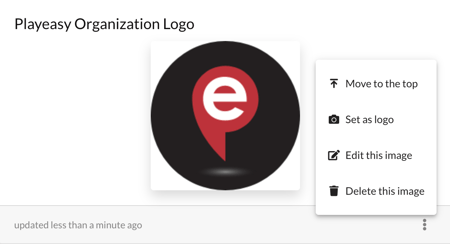 How to add photos
To upload photos, click the "Photos" section on the admin view of your Organization profile. You can upload images by choosing a file from your device, or dragging the image to the Upload box. You may add, edit or delete photos from your profile at any time. Once uploaded, you can click the three grey dots to the right of an image and click "Set as header image" to set an image as the header photo on your profile.
*Images must be under 2MB.
Adding photos to your Organization Profile not only markets your organization, but also shows potential hosts more about who you are.
Need an assist? Contact us here!