A guide to RFPs & how to post them on Playeay
How to Post an RFP on Playeasy?
What is an RFP?
A document that outlines details & requirements for a future event with the intention of receiving bids/proposals from vendors to complete it. Any event that needs an athletic space – court, field, rink, diamond, pool, batting cage, etc. – may be requested through the Playeasy platform.
How to Post an RFP on Playeasy?
To Create an RFP:
1.) Go to Playeasy.com
2.) Login to your Playeasy Account
3.) Click into your "Home" Page
4.) Click "Site Selection RFP" below the "Start a Post" button at the top of the newsfeed,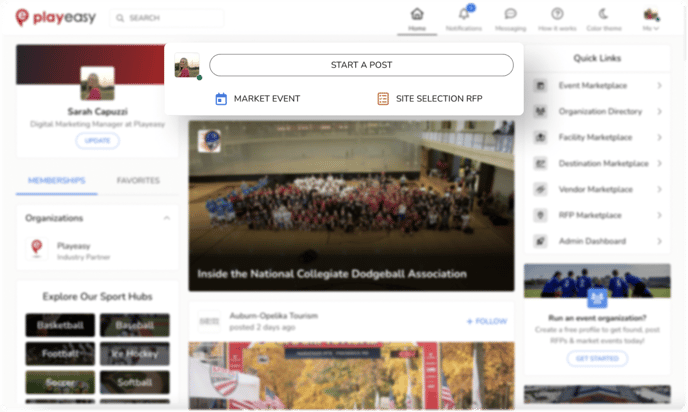 OR head to the Admin View of your Organization profile, click the "RFPs" tab and click the blue "New" button.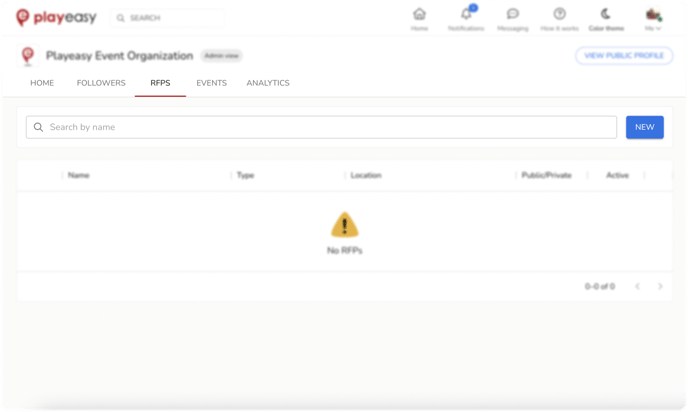 5.) Start with the basic details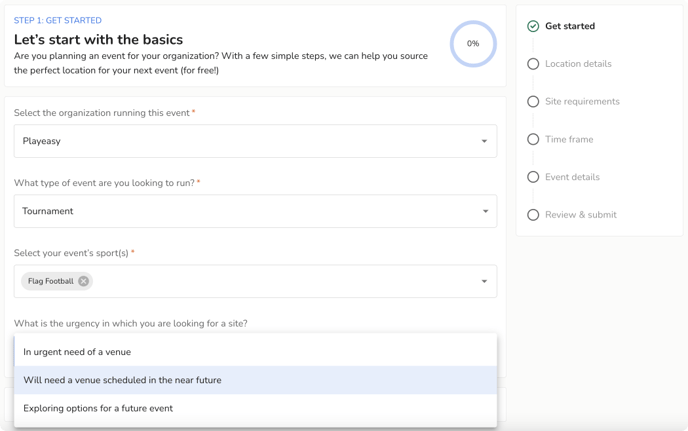 Select the type of event you're looking to run
Select your event's sport(s) - if your event will represent multiple sports, select all that apply
Choose the urgency in which you are looking for a site to communicate to Destinations & Facilities
6.) Add location details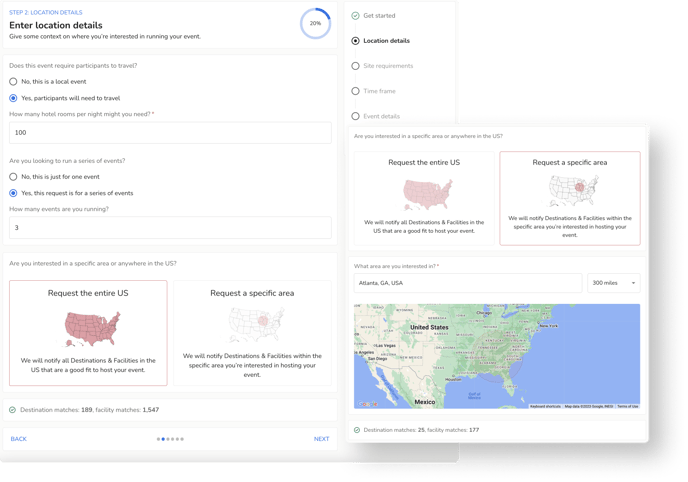 Select if this event will require participants to travel. If 'yes', fields will appear to fill in how many hotel rooms per night you may need. This is just an estimate to give Destinations a ballpark.
Select if you are looking to run a series of events. If yes, a field will appear for you to enter the number of events you are running.
Select if you are interested in a specific area or the entire US

The Entire US: This will alert all Destination & Facility matches across the country
Request a specific area: Enter a city or state of interest and select your mile radius. This will alert all Destination & Facility matches within the mile radius surrounding this location.
7.) Describe your site requirements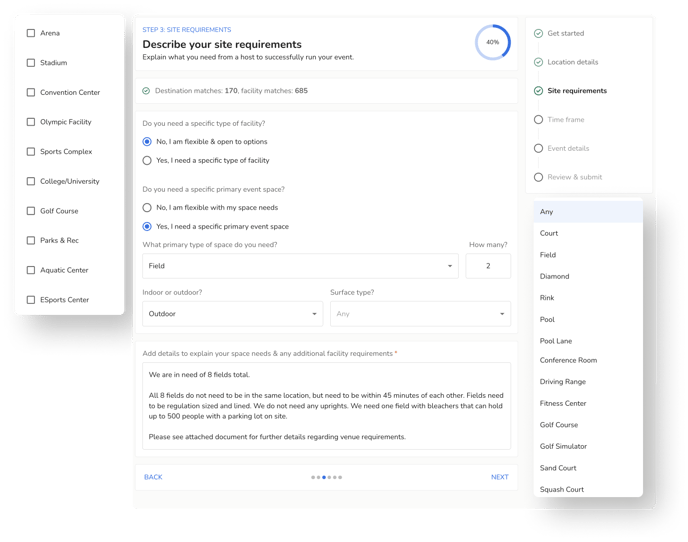 Choose if you need a specific type of facility. If yes, check off all facility types you may need.
Choose if you need a specific primary event space. If yes, choose the primary space type you need. To the right, enter how many of these space types you will need.
Next, select if your space needs to be indoor, outdoor, or either. If applicable, select your desired surface type.
In the text box below, describe in further detail your space needs & any additional requirements not yet covered.
8.) Tell us about your time frame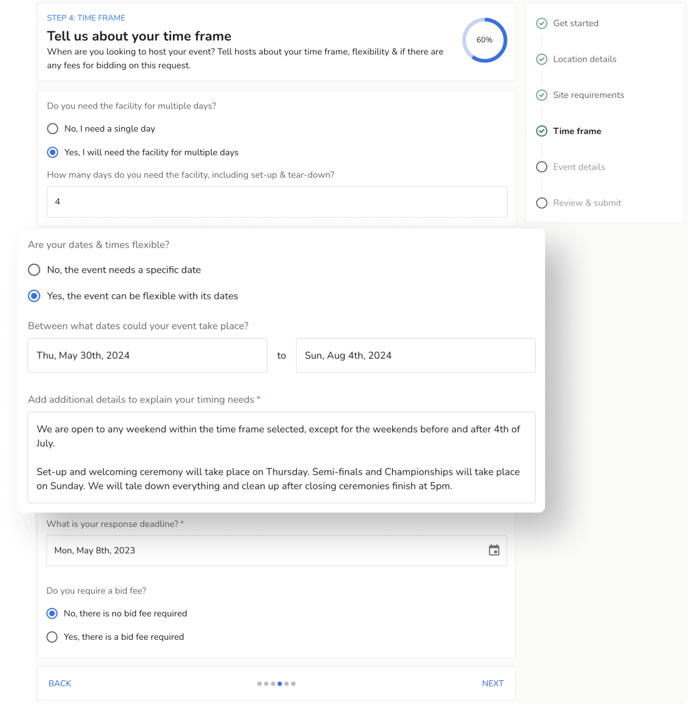 Select if you need a facility for a single day or multiple days. If multiple, enter the total # of days you will need a facility for, including set-up & clean-up.
Select if your event needs a specific date or can be flexible. Enter your date/date range.
In the text box below, describe in further detail your timing needs.
Next, enter your response deadline & if there is a bid fee required. If yes, enter the bid fee amount.
9.) Share details about your event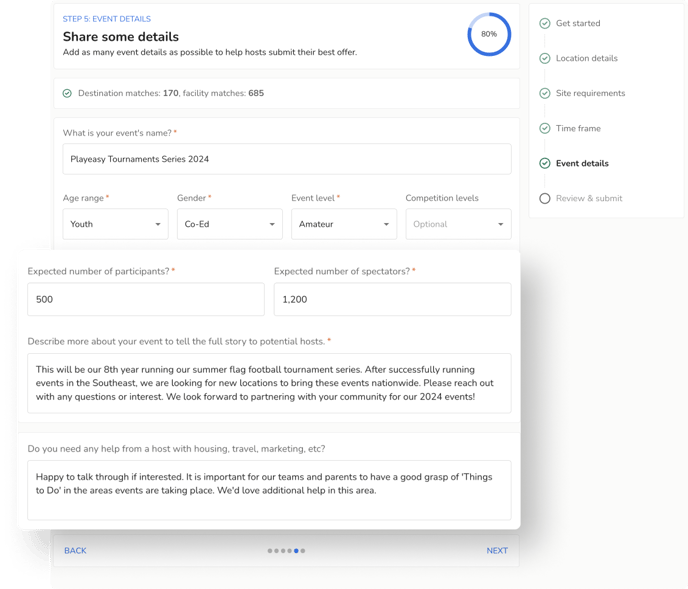 Enter your event's name, age range, gender, event level and competition level (optional)
Estimate the expected number of both participants and spectators. These do not have to be exact.
In the text box below, describe your event to paint the full picture for potential hosts. Ex: event description, event history, or anything else you'd like hosts to know.
10.) Fine Tune Your Matches & Submit!
Determine who you want to share your RFP with.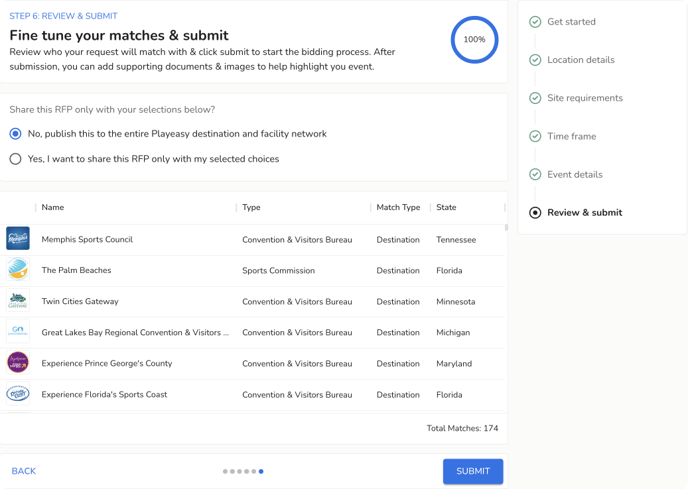 At the end of your RFP creation, you have the option to make this "Public" or "Private".

To make this Public, select 'No, publish this to the entire Playeasy destination and facility network'. This will alert all potential hosts in the Playeasy network and post your RFP to Playeasy's RFP Marketplace.
To make this Private, select 'Yes, I want to share this RFP only with my selected choices'. From here, check off the Destinations and Facilities you'd like to alert with your RFP. This will only send your RFP directly to these selected hosts, and they will be alerted that this is a Private RFP.

Click Submit and your RFP will go live! Destination & Facility matches will receive an alert of your RFP to check it out and contact you if it's a good fit. Your Public RFPs will appear on the RFPs tab on your profile, as well as the RFP Marketplace for Destinations & Facilities. Your Private RFPs will be directly sent to your selections.

For for a more in depth walkthrough of the new Site Selection experience, watch our webinar here.