In this article:
A complete description
We suggest you are as detailed as possible in your Description of your Organization. This part of your profile gives facilities a better chance to know who you are. Facilities like to see who they are bringing into their space, and your Description is a great place to share more information.
Suggestions on what to write:
What is the size of your organization?

How many teams do you have?
Do you run events for boys, girls, or both?
What age group?
In what area do you currently hold events?
Are you looking to expand your organization?
How to add a logo
Adding a logo to your profile legitimizes your organization! In the "Images" section on your profile, add an image of the logo you would like to use. Once uploaded, click the three small dots on the lower right of the image box. Then, select "Set as logo."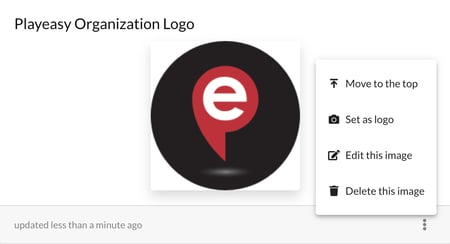 How to add photos
To upload photos, click the "Images" tab on your Organization Dashboard. You can upload images by choosing a file from your device, or dragging the image to "drag it here" link. You may add, edit or delete photos from your profile at any time. Once uploaded, make sure to add a Title to each image, and leave Comments to let people know what your photos represent.
**Make sure no image is larger than 2MB.
Adding photos to your Organization Profile not only markets your organization, but also shows facilities more about who you are. Facilities like to see whom they are offering to host, and having photos on your Organization Profile is a perfect way to do so.