Your profile is a great way for others to learn more about your space before they decide to rent. When your profile is complete, it helps renters feel that you're reliable and authentic, and a great place to have their event. Your profile is where you show your space off, and it should reflect all that you have to offer. A great, complete profile makes all the difference!
Renters can see your profile when searching for facilities, so you want to make sure you make it look great! The more complete your profile is, the more events you're likely to book.
In this article:
Complete your Playeasy Profile
A complete profile is important. It helps renters get to know your space, builds trust and helps you get more renters. The more complete your profile is, the higher up in the search you will be. Tell people what makes your space(s) stand out and all that your facility has to offer. A great profile includes:
The basics. Provide an accurate location, name, and the type of facility you are.
Detailed Description. Provide as much detail about your space as possible. (i.e. the history of your facility, fun facts, food options available, etc.)
Photos. Add at least four high quality photos of your space.
Logo. Add your facility/school logo to your profile.
Space Types. Does your facility have more than one basketball court? Do you have a outdoor field and an indoor ice rink? Be sure to add all of the athletic spaces that you have available to rent!
Reviews. Get reviews from past customers, and encourage new customers to review your space after their events - the more the better!
Documents. Do you require a waiver for all of your rentals? Upload any necessary paperwork to your "Documents" tab.
Direct Deposits. In order to start receiving rental requests, you must be signed up for direct deposits. We want you to get paid!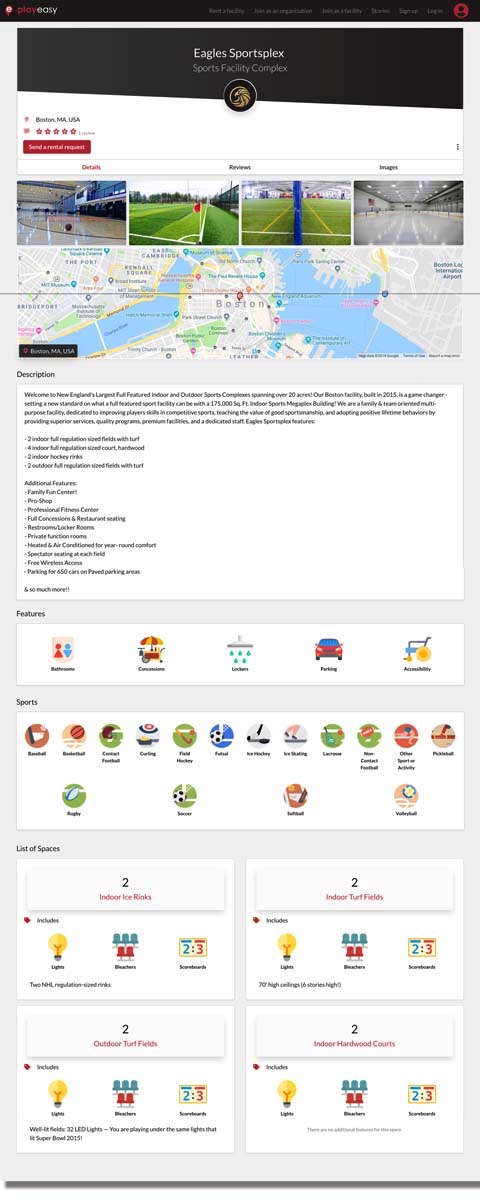 What customers see
Here's what renters will see when they enter the Playeasy Marketplace.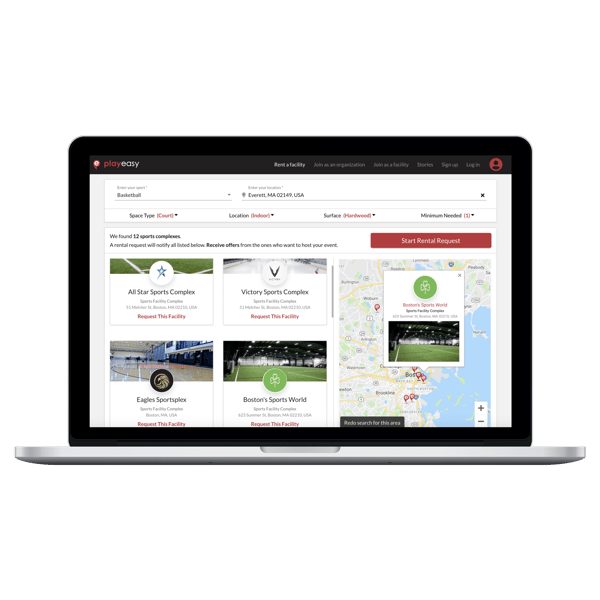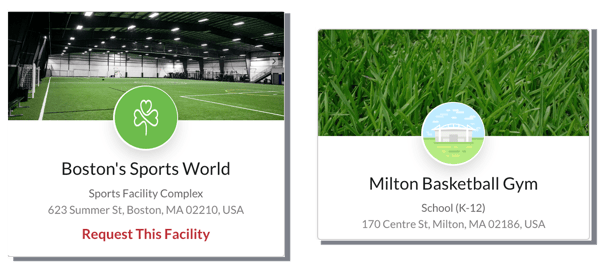 Share your Playeasy Facility Profile
Share your profile with renters, friends, and family by clicking Share Profile on the top right of your Playeasy Profile.